Whether it is adapting a commercial space to an entirely new use or renovating an existing space to upgrade its ­­­­­­­­­­­­­­­­­­­­­look and function, your commercial remodel is in great hands with American Contracting
American Contracting Services, Inc. is a leading local contracting company specializing in the renovation of small to medium size commercial spaces or adapting spaces to a different use. Whether it is converting an old tire store to a strip mall, remodeling a church into office space, renovating a retail space into a beauty school, updating a movie theater or even the renovation of an entire airplane hangar American Contracting has the expertise and the team to make it happen.
"On time and on budget" are key goals with any commercial renovation. To accomplish them, American Contracting becomes an integral partner with the owner, the architect and designer to provide guidance and assistance as final plans are developed.
Contact us today to discuss your plans or ideas to renovate your commercial space.
When considering a commercial contractor, you want to find an effective and understanding partner. With American Contracting you have an award-winning renovator that can provide you with the expert guidance you need to complete your project on time and on budget. With your ideas and our expertise we can insure a quality result.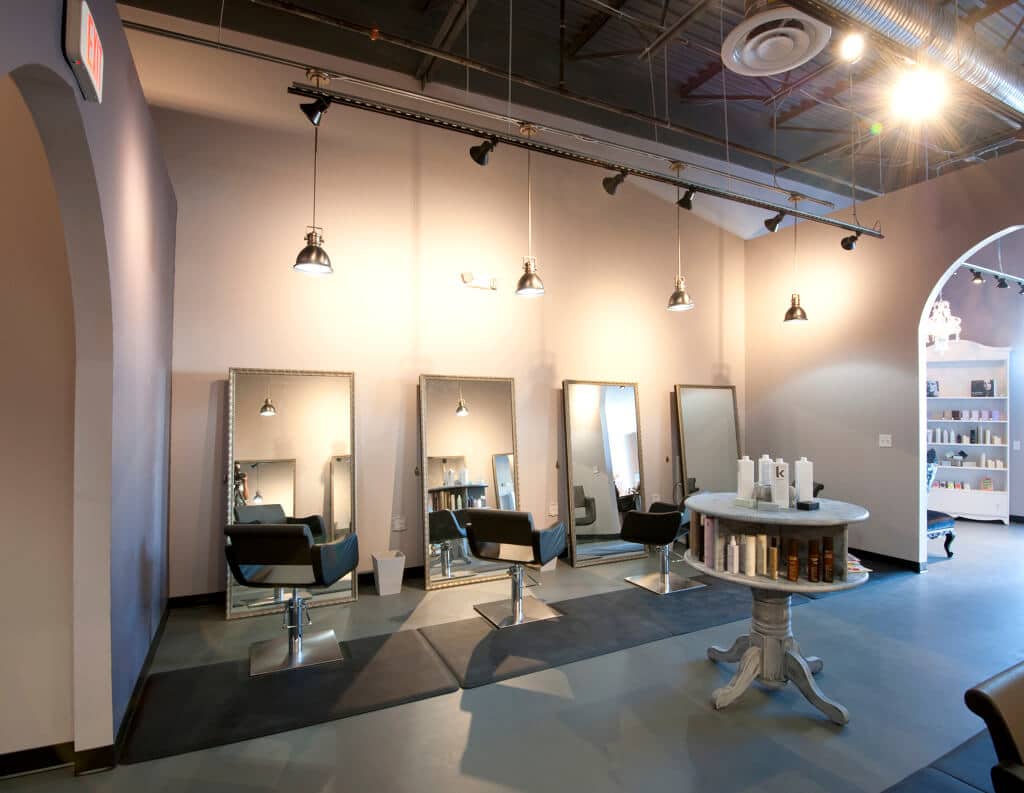 Call For a Quote:
(410) 494-0900
Our Commercial Contractor Work
GrandView Aviation
Grandview Aviation is a private jet and helicopter service company based at Martin State Airport in Middle River.  American Contracting was hired as the general contractor to completely renovate their 20,000 square foot hangar which also serves as its headquarters building.  Working with architects Levin/Brown of Pikesville we painted the entire inside of the building and coordinated the installation of two stories of modular office space.  Once the offices were installed on the site American completed all the finish work to include plumbing, electrical, tile, painting, and the coordination of the installation of the fire suppression system.
Pikes Theater
The storied Pikes Theater on Reisterstown Road in Pikesville, MD was opened in 1938. In its history the building opened twice as a theater and most recently was used a church. Two young entrepreneurs had the vision to renovate the theater to its old glory by upgrading the space to include two separate screening rooms with luxury seating with food and beverage service.
American Contracting was hired in 2018 to completely renovate the building and to provide access to the adjacent Pikes Cinema Bar and Grill for table service at the new over-sized leather seats. Working with the architecture firm of Levin/Brown of Pikesville we completed the interior and exterior renovations in 2019.
Edgewood Creamery
This is another example of what we call adaptive reuse.  This building on Edgewood Road in Edgewood, MD housed an auto repair facility.  Our customer, a family owned business that manufactures and sells ice cream on the retail level contacted American Contracting to renovate the building for their business, Edgewood Creamery.  Working with the architects, Sanders Designs in Cockeysville, we developed a renovation plan to turn this auto shop into a very successful ice cream store. 
Episcopal Housing Corporation
The Episcopal Housing Corporation, a 501 c 3 corporation, (EHC) was created in 1995 to develop quality affordable housing and community facilities throughout central Maryland. Over the years it has developed thousands of square feet of affordable housing in the area.
For years it rented office space in an Episcopal Church in the Roland Park area. Adjacent to the church is a cemetery and funeral chapel. The original church was built in 1854 and the funeral chapel was constructed between 1920 and 1922.
EHC approached American Contracting to explore converting the funeral chapel into its headquarters building. With the help of architect Alan Brock we created a plan for conversion. Construction was completed in 2014.
North Point Shopping Center
Here is another example of the type adaptive reuse projects American Contracting is known for. The owners of this property wanted to convert the former Goodyear Tire Center into a commercial strip center with multiple stores. American Contracting was the general contractor for this renovation that included adding additional space on to the rear of the building thereby increasing usable and rentable space for the new tenants.
Beechfield United Methodist Church
In the winter of 2010 the Baltimore area experienced a significant snow storm. So much snow fell that the ceiling joists of the Beechfield Methodist Church cracked and needed to be replaced. In an elaborate process American Contracting placed scaffolding inside the church not only to protect the sanctuary but also to allow crews to safely work at the roof line. Whole sections of the old roof were removed, new joists secured in place and a new roof was installed
Here are the answers to some of the most frequently asked questions about our commercial contractor services. If you have further questions use the button below or contact us.
How long have you been in business?
In 2022 we will celebrate our 24th year.
Can you provide plans?
Yes, either working with our in-house interior designer or through our network of some of the finest architects in the area, we can create your plans.
Are you insured?
Yes, an insurance certificate can be provided upon request
1620 Providence Road
Towson, MD 21286
Residential & Commercial Contracting Services